In this post I'm outlining a simple 3 step strategy to growing your list and traffic up to 8x faster than conventional means without writing and spending a dime on advertising.
Revenue is directly related to the size of your list.   Each lead has a monetary value.  For example, if a lead was worth $5 per month to you and you are growing at 100 leads per month.  Then in a year you will have added $6000 to your bottom line.
If you use some of the techniques I outline below – you'll grow that at a minimum of 2x. However, if you use all the methods then your growth could be as much as 8x, in other words $42,000 additional revenue.
That's worth the 5 minutes it will take to read this post, right?
Don't forget to acknowledge the importance of building a list.  No matter how successful you might be at social media, advertising or SEO, you're still reliant on those sources for traffic and they're not always under your control.
However, if you have an email list – your traffic is always there at your finger tips.  It's an asset and directly increases the value of your business.
Let's get down to the system itself…
It's broken down into 3 steps: Plan, Produce & Promote.  I tried to think of more sexy words…Strategize, Systematize and Dominate – but I figured we should keep things real.
The essence of this method is creating an interesting piece of content without writing and turning that into a lead magnet (more on that later) and promoting both.
1. Plan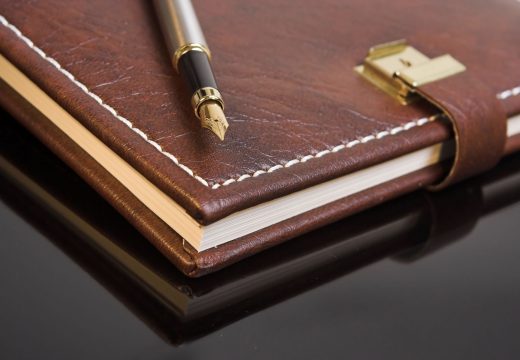 This word alone says to me 'boring'.  I hate planning – but it's the foundation of anything you do – so we do have to do it as it's probably THE most important part of the whole equation.  I promise it won't take long.
The thing is when you sit down to produce your content – you're wasting your time unless you know that content is going to perform.
If it's not interesting enough for people to engage with and share, then it's not going to get you the boost in traffic you need.
How do you know what type of content will work?
Model What's Already Working
Cheesy analogy: Apple didn't invent the mp3 player.  They just made a better one.
You need to look at what kind of titles and headlines are already getting results in your niche and model your post on the same or similar title and content.
If you get stuck for a powerful headline there is a solution for that too…more on that in a bit.
The way to do this is to use one or more of these tools…Buzzsumo, Social Animal and Amazon.  Yes, Amazon is probably one of the best research tools out there.
Let's use an example in the healthy food niche.  Paleo Chicken Recipes.
On Amazon searching on relevance in books gives us this result. (Ignore the top entry as it's an advert.)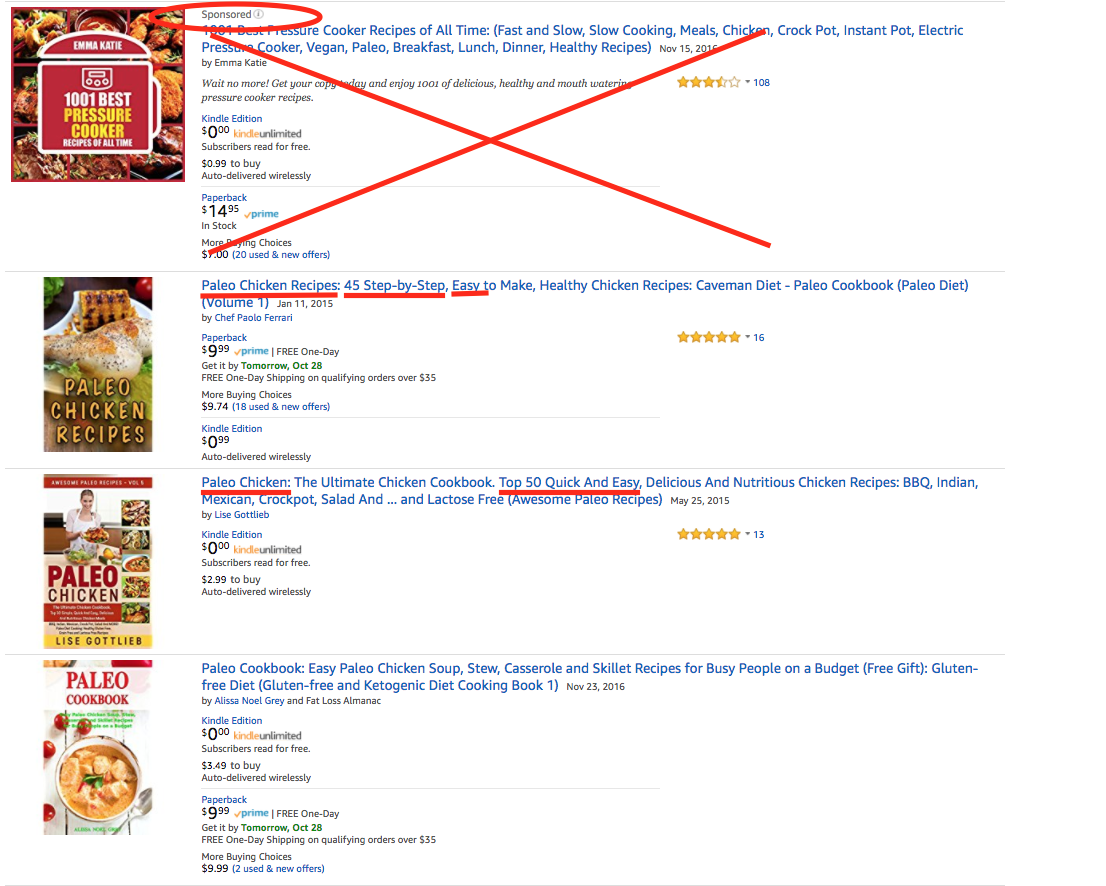 The top 2 results give us some clues as to what our title should be:
45 Step-by-Step, Easy to Make
Top 50 Quick And Easy
So, if we produce an article with a number of recipes, that are easy and quick, with step-by-step instructions, then that's going to work…right?
In Buzzsumo, we learn an important additional keyword – "Gluten Free".   Buzzsumo is great at surfacing all the content that is getting traction on social media, so it's an important tool in our quest to find out what content is going to engage with your audience and get high conversions onto your list.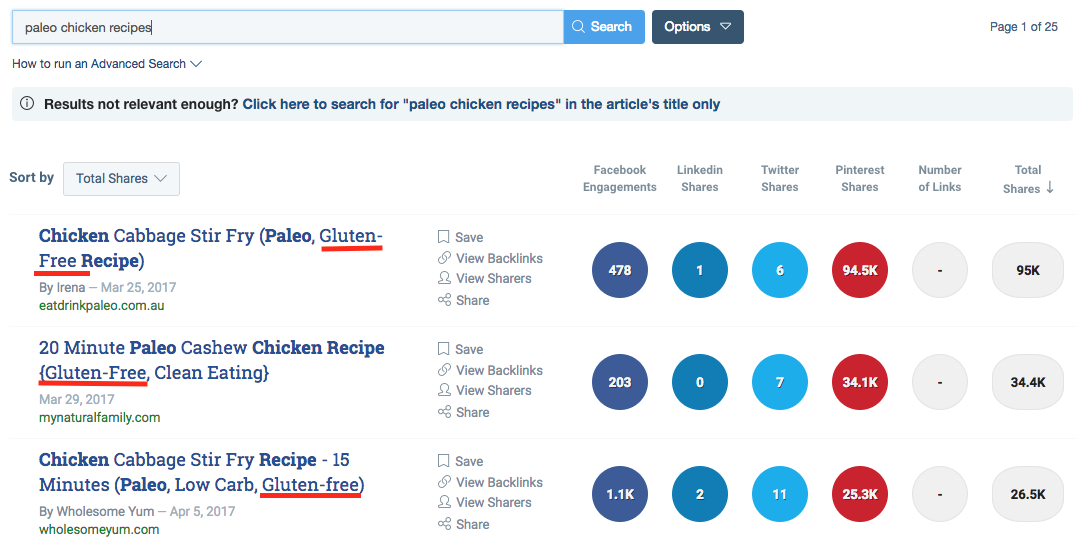 We could do some more research, but I promised that I would keep this article short.
I'm sure you can see that if we create some content that is a list of 'Gluten Free Paleo Chicken Recipes' that are quick and easy to make – then this would be perfect for our audience.
To conclude our plan – we're going to create the post on a blog without writing and turn it into an ebook that users can download in exchange for their email. This is called a 'lead magnet'.
Content Upgrade
We then turn a blog post into an ebook to use as our lead magnet, which is called a 'Content Upgrade'
Content upgrades are proven to be the most effective way of growing your list up to 8x faster than conventional methods.
Pat Flynn of Smart Passive Income said this about 'Content Upgrades':
"I've experimented with this in both a podcast episode and a blog post in the past, and it really does work. On each of those specific pages, I saw roughly a 500% increase in email opt-ins."
Clay Collins from LeadPages said:
"…that promoting upgraded content at the end of blog posts on LeadPages was the number one factor in growing their email list, and one of the main reasons their company has grown so fast."
Brian Dean from Backlinko tried it out too..
…he was blown away when it boosted his conversion rate by 785% …
DOWNLOAD This Article: 3 Steps To Grow Your Email List & Traffic Up To 8x Without Writing Or Spending a Dime On Ads 
Check out our 15 content upgrade examples to grow your email list 6x faster.
2. Produce
This is the part where you might be thinking this is going to be time consuming, laborious and tedious.
Well not at all…and this is the thing. We're going to be using content curation as our technique. Think of content curation as the Oprah Show. Oprah is the host of her show. She selects guests to come on the show and talk about their knowledge. This is the content. The content isn't Oprah's. She curates (selects the best) for her audience. She knows what's best for them, but it's the guest who provides the actual content itself. Her audience love her for it.
So in content curation you are selecting the best content for your blog and therefore your audience.
There are a few rules you should follow when curating content from other blogs.
Write an introduction to the content so your audience knows why you are selecting it.
Never curate all the content.
Always provide a backlink to the source of the article so the reader (and Google) knows it's not duplicate content, but rather it's a curated article.
Summarize the content in your own words.
Stay within those guidelines and it becomes a win-win for everyone. The content source gets traffic and a backlink from you. And you get great content.
So your article structure will look like this: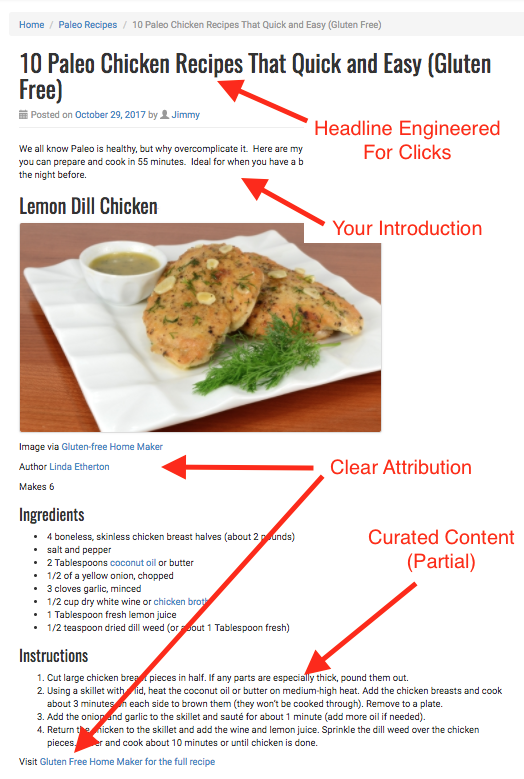 List posts and articles generally do best and once you get the hang of doing one the rest become a lot easier…
Now you have your article in a format that people will want to read. You can add more images to your post using Unsplash or Pixabay, which are both great sources of copyright free images.
(Unsplash is my favorite)
Convert Into An EBook
Taking your content and pasting it into Word or InDesign actually takes longer than you might think.  We used to do this, but to add the images and make it look professional was taking my team way too many hours.  We created Designrr specifically for this purpose.
Designrr will take the URL of your published post and remove the navigation, ads and social icons and using a pre-defined template will produce a high quality professional ebook.
Let's switch to a different example.
I will convert this blog post you're reading into an ebook using Designrr.
Open Designrr and give it the URL of your post.

2. Choose a customizable template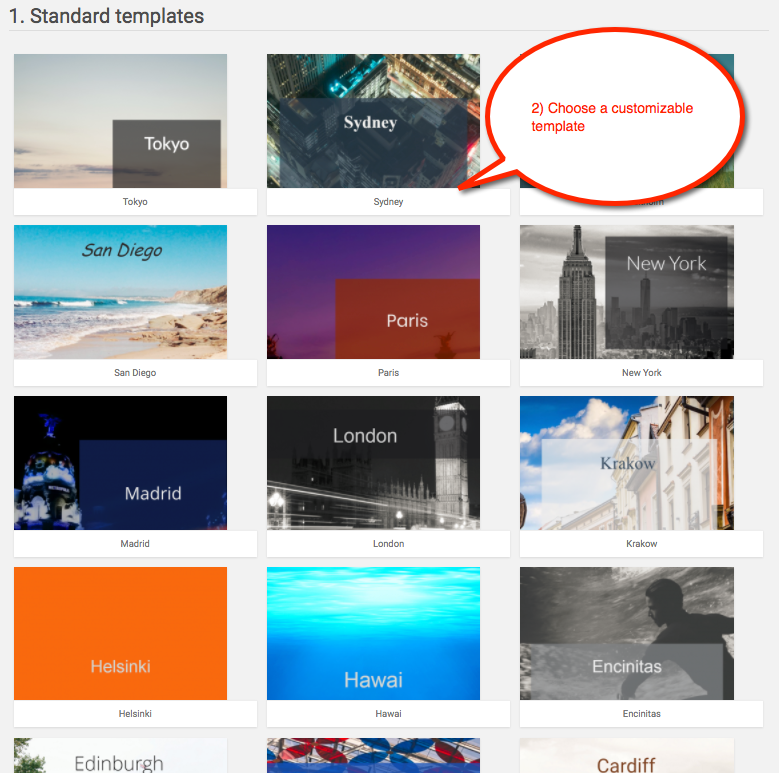 3.  Edit or tailor the content, text styles or anything you like using the inbuilt editor.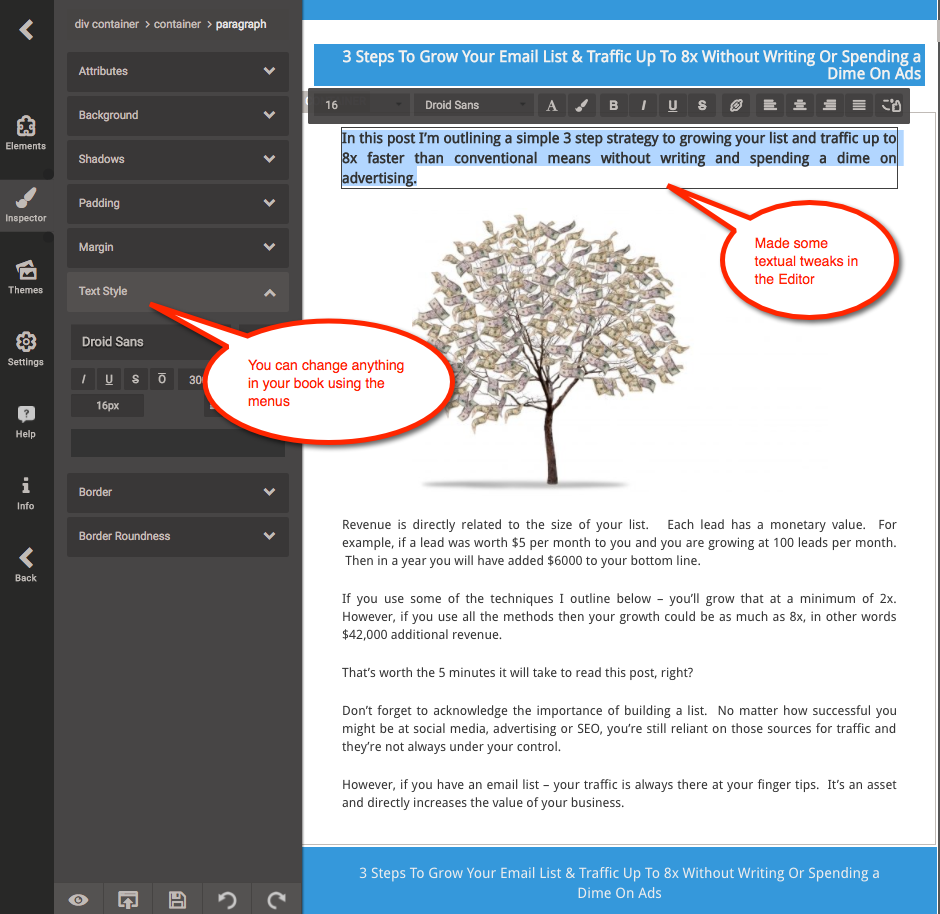 4. Choose a cover page and click publish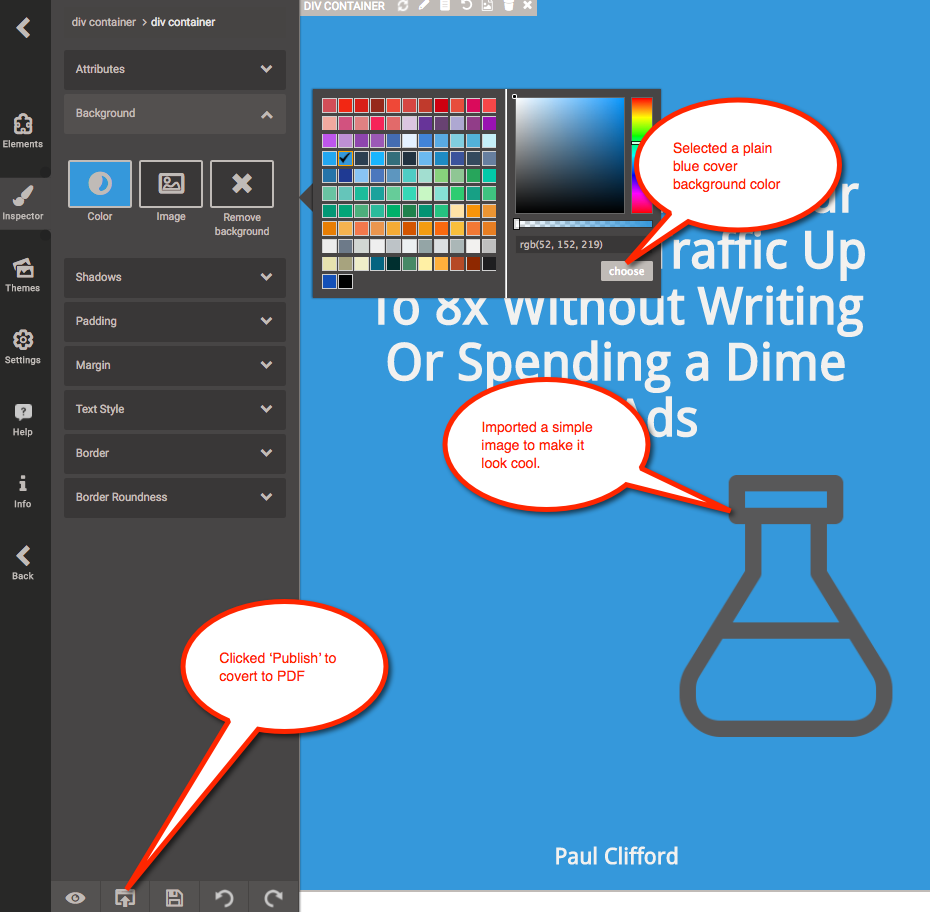 5. Final pdf ebook looks like this: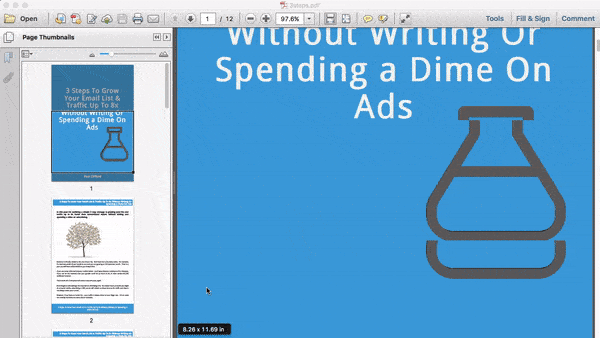 Use the ebook as your Lead Magnet
Upload this to your site, and use it as the Lead Magnet. You should create a 3d cover image for the optin form like this (created by Designrr):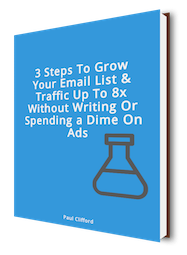 Now use a tool like KudaniLeads (if you're using WordPress) to run the optin and subscriber management for you. KudaniLeads gives you options to run lead collection in many places around the page ensuring you're maximizing the opportunities available to you.
Make sure that the call to action for the optin page or popup is benefit driven.
Use phrases like "Download my top 10 Paleo Chicken Recipes guide so you can create quick and easy gluten free dishes in 20 minutes or less."
Never use words like 'Subscribe to my newsletter' No one ever does that nowadays as it's basically saying I'm going to send you a lot of stuff you might or might not be interested in.  Instead a benefit driven, highly valuable ebook like the one we've just created will create a ton more.
3. Promote
We now have a lead machine in place to capture our visitors emails. If you've implemented the correct optin placements and used a good lead magnet as a content upgrade and tested it, you're ready for the next phase.
Traffic in general is a huge topic – so I'm going to cover 2 simple ways you can get traffic to your site.
Traffic Growth Is Compounding.
The first fundamental to understand is that your web traffic will increase the more subscribers you get. This is because every time you publish a new blog post – you must email your subscribers and get them to check it out. This generates more clicks not just to that one post, but also to other posts on your site. Here's the secondary benefit…the people already on your list already know you. Your fans are 3x more likely to share your content and generate more traffic than a cold visitor. Can you see how effective that is?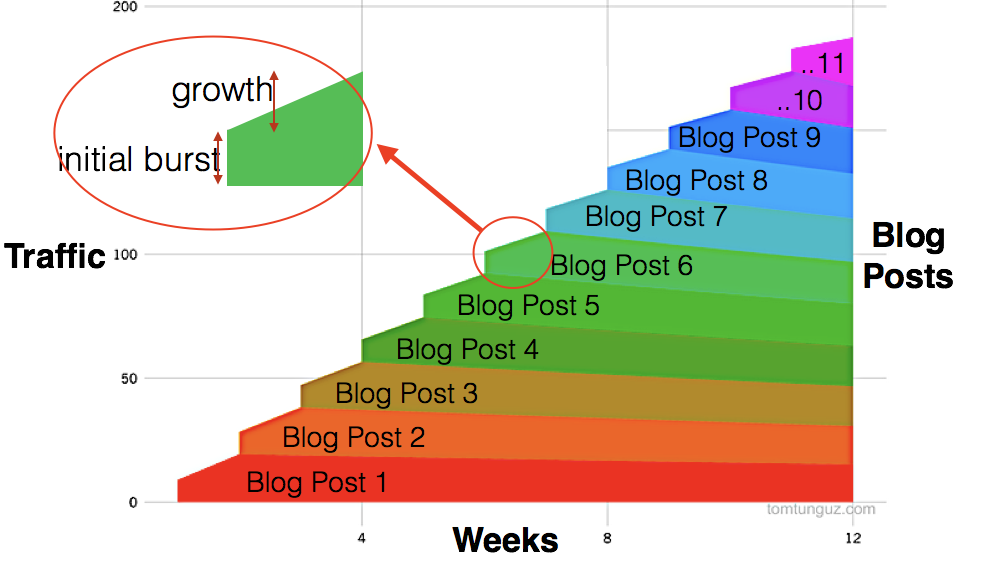 So each time you post it generates incrementally more traffic over time.
Streams Into Rivers
The second key point is you must view free traffic as lots of little streams and trickles. It's not possible to 'turn on' free traffic and create a deluge straight away. Instead, you target lots of trickles…and when all the trickles and streams come together you end up with the river of endless traffic coming into your site.
Where can you find these little streams?
Let's start with the ebook you just created. This powerful tool can be uploaded to other sites which are already receiving rivers of traffic allowing you to siphon off your trickles. There are many PDF sharing sites that have high authority with Google and already rank for many high traffic keywords.
Here is a list of PDF sharing sites in order of authority and traffic.
http://www.issuu.com
http://www.slideshare.net
http://www.scribd.com
http://www.calameo.com
http://www.smashwords.com
http://www.yudu.com
http://www.authorstream.com
There are many more to upload to which you can find with some Google sleuthing.  It's important to remember to use the title that you've worked out already.  The title is already engineered to be focused on what people want and are most likely to share.  So use it.
Amazon
This is the monster for traffic and to get your ebook on here is a lot easier that you think.  With the PRO version of Designrr it will output your book into Kindle (mobi) format so you can upload it immediately to the store.  Designrr PRO will also export to iBook format if you want to distribute it to Mac users.
Amazon has a great tutorial on uploading to Kindle so you can follow the steps easily.  Again your title will get the results you need.
The Dam is Open
It will take a few hours to create your post, converting your post to an ebook will take 5 minutes with Designrr or 3-4 hours manually.  Add on a couple of hours to follow the steps to upload to those sites.
In all it'll take you a few hours to a full day depending on your skill level to do the above.  It's worth it though because you'll start to see little trickles appear.  Even if you did 7 of those sources and they generated 10 visitors per day each.  With 70 visitors and a 20% optin rate (pessimistic I know), that's 14 new leads per day.
The value of a lead is between $1 and $5 per month depending on your niche.  So by the end of month 1 you will make $420.  O.k. so that's not going to get exciting…but remember that's per month.  After a year you'll have made $37,500 with just 1 days worth of work.
Naturally, there are lots of other factors here like unsubscribes and I've used a very simplistic monetary model just to keep things easy to understand.  However, I've not included in that any Facebook sharing or natural organic traffic you'll get to your blog from search engines, and if you invest a couple of hours every day creating more content and working on your list and sharing – it becomes a serious source of income.
For example, the bloggers in the Food niche like Lindsay from PinchOfYum earns well over $70k per month as a recipe blogger.  She's been doing it for 4 years, but as you can see the results are worth it with some focus and consistency.
I hope this post inspires you to produce some great content for your audience.
Featured image credit: http://tomtunguz.com/